In a span of two and a half years, Cardi B has skyrocketed from the stripper pole to the Grammy stage. We've witnessed with our own eyes Cardi's glow up and regardless of if you like her or not, you absolutely [and I won't allow you] to deny that her story is the definition of inspiring. Watching Cardi perform at the Grammy's last night caused me to reflect on how she got to this point in 2 and a half years, which is almost unheard of! Looking back on her career, I took away three things that we all could learn from Belcalis 'Cardi B' Almanzar!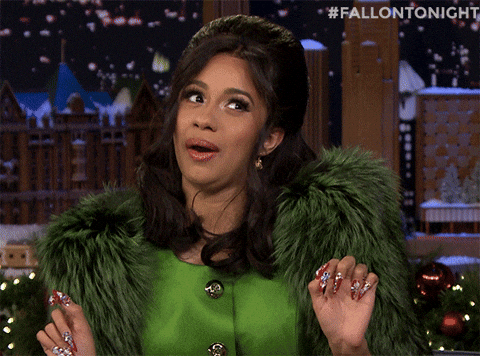 1.) Turn Opportunities Into Stepping Stones
Most of the stars we see on Love and Hip Hop are still in the studio waiting on their music to drop after six seasons. Cardi, however, came, saw, and left. In 2016, Cardi joined the New York installment of VH1's Love and Hop and quickly became a fan favorite with her infectious personality and witty one-liners. But aside from that, Cardi was about her business! Every episode we saw her booked and busy in the studio, and when naysayers said she wouldn't make it, she showed them that she would… and she did! The lesson to learn here is to turn every opportunity into a stepping stone. If you're a LHH fan, then you know that some of the castmates are still trying to the do the same thing from season 1. Cardi made a name for herself, made connections, and used the show as a stepping stone to get her to the next step! There's no reason to stay somewhere, with someone, or seize an opportunity after it's served its purpose in your life. Seize the opportunity and move on.
2.) Your Haters Are Literally Your Biggest Motivators
DJ Self told Cardi that he didn't want to sign her because he didn't take her seriously and that he didn't think she would go far. And BOOM… Belcalis took that fuel to burn her fire. As Cardi's star began to rise, haters began attacking her for using ghostwriters, calling her ignorant because of her speech and accent, for being a stripper, and everything else. But what's admirable about Cardi is for every negative thing someone said about her, she flipped it and turned it into ten positives. That's a lesson to learn quickly in anything that you're trying to do for yourself. There's always going to be someone hating on you and twenty people behind them. So what do you do? Take those 21 people and use them to your advantage in 21 different ways!
3.) Switch Up But Never Stray
It's funny when people say that Cardi is supposed to change who she is because she's a celebrity now, and while I partly agree with that, I appreciate the fact that she's still that regular, degular, smegular girl from the Bronx. It's assumed that when you come up, you're supposed to change yourself to fit into your new life. Cardi is a prime example that you don't have to. She's rubbed elbows with some of the most famous in the room, been on several world carpets, and countless talk shows, and is still the same Cardi B. Yes, when you start leveling up, parts of you should level up too. But straying from who you really are, should never happen! You can get to the same destination being yourself quicker than you'll ever get being someone else.
2017 was Cardi's introduction. 2018 she made her mark. And 2019 will be her domination. I don't know what we'll see from Cardi this year, but what I do know is that her story is the ultimate motivator that you can literally be anything that you want to be if you keep grinding for it.
Hope you enjoyed this post! Keep up with me on Instagram and I'll talk to you later sis!
xoxo,
Raee